Dealership Management System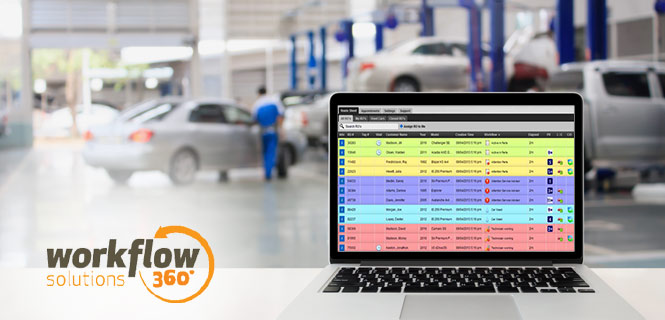 In today's changing landscape for dealerships, there is a growing need in the automotive industry for customization beyond what the standard dealership management system can offer. Workflow 360˚'s DMS extension facilitates and improves communication between dealers and customers to improve workflow and add to a company's bottom line.
Workflow Solutions 360˚
A Production Efficiency Platform that supports your existing dealership management system.
The capabilities of a dealership management system vary between different software and respond to the needs of a dealership's processes.
The key features of a DMS include:
Sales Management
Customer Management
Vehicle Inventory Management
Service Management
Parts Inventory Management
Finance And Accounting
There are many other features that automotive management systems can come with, including the potential for large-scale reporting, payment processing, and Buy Here Pay Here (BHPH) Management.
Each dealership's operations are different and require a distinct set of DMS components. This further highlights the need for dealerships to acquire a responsive dealer management system plugin that can eliminate bottlenecks, improve productivity, and enhance communication streams.
A DMS extension that supports each department 
The landscape that car dealerships operate in is rapidly evolving with new technology and greater innovation. A DMS extension that evolves with the times helps dealerships manage increasing traffic, as well as respond to customers who expect quick turnarounds, immediate responses, and a smooth experience.
Workflow 360˚'s evolved platform makes effortless communication between departments and customers possible. It helps each department move work forward and through the pipeline.
How Does A DMS Extension Impact Each Department?
Service Center
Report real-time information that tracks every vehicle's progress through the service cycle and eliminates bottlenecks created from even the smallest of missed details. Synchronize real-time reporting, simplify communication with customers through text, and easily monitor the service progress to identify where bottlenecks occur.
Parts Department
Streamlined communication between service technicians and the parts department allows for more accurate reporting of available parts, prices, and order times. This helps technicians move vehicles efficiently through the service cycle. With a DMS extension, technicians can see an average of 15-27% pay increase by eliminating constraints and reducing costly downtime.
Preowned Reconditioning Process
Workflow 360° provides sales managers with the ability to have complete visibility into the reconditioning process to know, understand, and communicate throughout the process. By reducing the time it takes for a used car to move through the reconditioning process, carry costs are reduced and can add thousands of dollars per month to the used (preowned) vehicle department.
Customer Service
Clear internal communication naturally leads to better processes, which aids in an enhanced experience for the customer overall. With aligned route sheets, quotes, SMS communication, and job priorities in one space that is accessible within each department, customers and teams can receive the information that they need almost instantly. A Production Efficiency Platform positively impacts customer relationships and increases retention.
Workflow Solutions 360˚ is the first cloud-based Production Efficiency Platform that enhances your existing dealership management system.

Access real-time data from anywhere, get a bird's eye view of each department and enhance communication between teams.
Dealership Management System FAQ