Sales & Inventory Management Software
Workflow 360˚ enhances your dealership's service management by making communication simple and trackable. The user-friendly platform allows teams to view the open and closed history of RO's in the system for each vehicle. It populates data from your existing DMS including full automotive route sheets, documented instructions, and conversations between departments into one accessible place.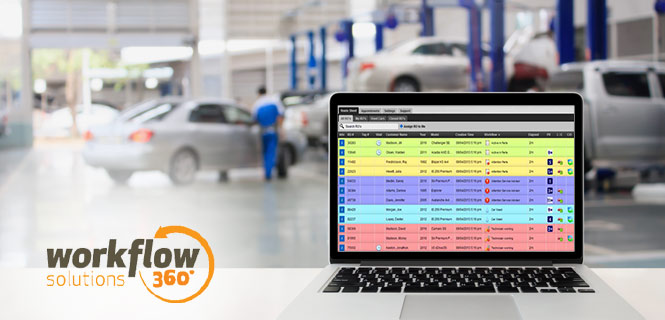 Each person connected to the RO is notified about issues and approvals in real-time, resulting in vehicles moving through the service bay quicker and ready to sell. Workflow 360˚ is a DMS extension that simplifies your operations and is an effective solution for hundreds of dealerships across the world.
Increased ROI with increased throughput


How? With a Production Efficiency Platform.
More sales don't necessarily equal more revenue if your processes aren't optimized. Dealerships that experience downtime and high costs of production with each sale miss opportunities for profit every day without an integrated platform.
Workflow 360˚ is designed to increase efficiency by allowing more billable work to exit the shop. A productive workflow and steady inventory create a healthier bottom line and more satisfied customers.
What are some of the issues that a Production Efficiency Platform can solve?
Workflow 360˚ benefits dealerships that are dissatisfied with their current DMS for automotive sales because it lacks connectivity and limits communication across departments. Keeping used vehicles demo vehicles serviced and back in front of shoppers, faster.
A DMS service plugin is simple to use and has the power to solve:
High costs of inventory
High costs of production
Low rate of inventory turnover
Lack of real-time updates on reporting
Lack of data collection in one accessible place
Sales and inventory management impacts each area of the business


A flexible and production-focused DMS extension creates an ROI for every department
Real-time Reporting: From the sales team inquiring about a vehicle to communication between service technicians and the parts department, updates in real-time ensures that everyone connected to the RO is in the know with accurate information.
Customization: Workflow 360˚'s flexible platform allows dealerships to fine-tune the details they need to operate efficiently and meet customer demands. This addresses the needs of dealerships to evolve with the industry and adapt to the growth of their business.
Streamlined Communication: Each department is connected to one system for seamless communication. This prevents issues from falling through the cracks, identifies where constraints are happening, and allows managers to continuously improve their department's processes.
The first cloud-based Production Efficiency Platform
Improve your workflow

through single thread communication 
Sales & Inventory Management Software FAQ